Consists of 12 blocks of 12- to 16-storey set within a resort atmosphere. The emphasis is on clean, sleek and modern architectural forms balanced with wide open spaces and natural landscaping.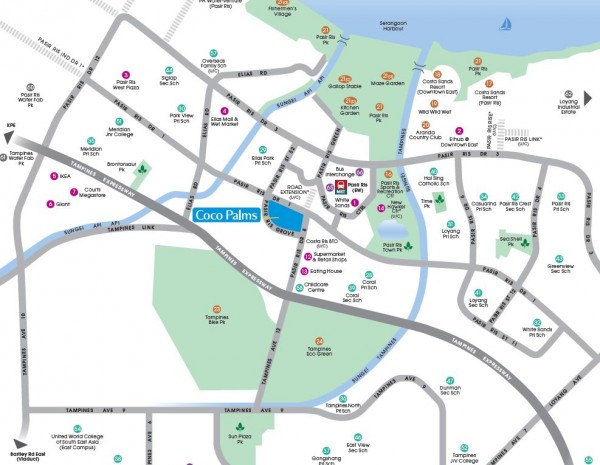 Spanning across Singapore, the Cross Island Line (CRL) is approximately 50km in length and is targeted to complete by around 2030.
Starting from Changi, the CRL will pass through Loyang, Pasir Ris, Hougang, Ang Mo Kio, before reaching Sin Ming. Continuing westwards, it will serve areas such as Bukit Timah, Clementi, West Coast, and terminate at Jurong Industrial Estate.
It will provide commuters with another alternative for East-West travel to the current East-West Line, bringing greater comfort and significantly shorter journey times. The eastern leg of the CRL will also include a segment that extends into the centre of Punggol. Residents in Punggol will be able to travel to Pasir Ris – a popular and much demanded travel route – in only 10-15 minutes, compared to a 40 minute bus journey today.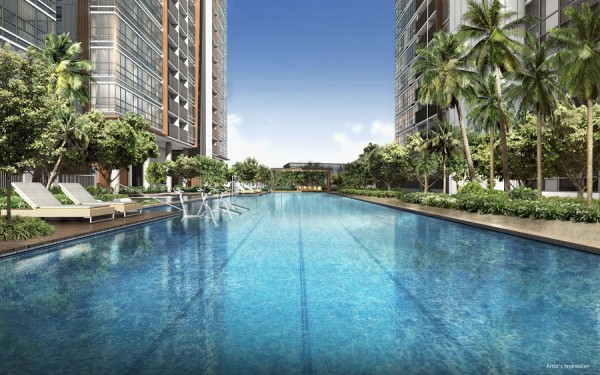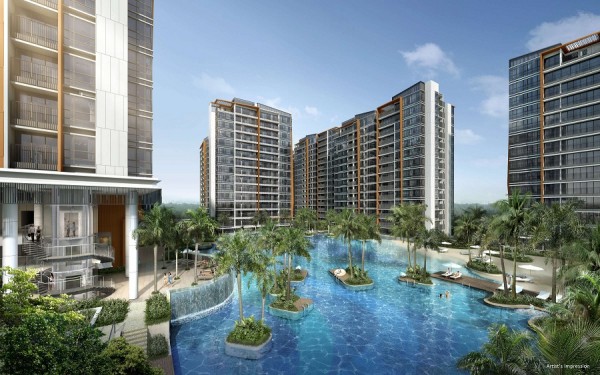 更新时间Feb 8, 2015 @ 11:22 pm
Developer
:Hong Realty (Private) Limited
[Joint venture project by Hong Realty (Private) Limited, City Developments Limited & Hong Leong Holdings Limited]
Development Type
: Residential
Address
: Pasir Ris Grove
Tenure
: 99 years leasehold w.e.f 7 January 2008
Site Area
: Approximately 41,514 sqm / 446,857 sqft
Plot Ratio
: 2.1
Total No of Units
: 944 residential units and 6 shops
No of Car Park Lots
: 2 basement car park not less than 950 lotsa) Handicapped lots
12 lots
b) Family lots
12 lots
c) Electric cars lots
24 lots
d) Washing bays
4 lots
No of Towers
: 12 blocks of condominium between 12 and 16 storeys
Expected TOP
: 30 June 2019
District
: District 18

| | | |
| --- | --- | --- |
| Residential Unit Sizes | | |
| Type | Size | # of Units |
| 1 Bedroom | 463 sqft – 624 sqft | 137 |
| 2 Bedrooms | 743 sqft – 1,195 sqft | 249 |
| 3 Bedrooms | 904 sqft – 1,249 sqft | 228 |
| 3 Bedrooms Suite | 1,098 sqft – 1,432 sqft | 69 |
| 4 Bedrooms | 1,259 sqft – 1,668 sqft | 71 |
| 4 Bedrooms Suite | 1,378 sqft – 1,722 sqft | 87 |
| 3 Bedrooms Dual Key | 1,152 sqft – 1,561 sqft | 29 |
| 4 Bedrooms Dual Key | 1,464 sqft – 1,475 sqft | 24 |
| 5 Bedrooms | 1,744 sqft – 2,142 sqft | 33 |
| Penthouse | 1,744 sqft – 3,111 sqft | 17 |
| Total Residential units | | 944 |
| Shops | 603 sqft – 1,012 sqft | 6 |
| | | |

5 mins walking distance to Pasir Ris MRT Station and bus interchange
Excellent accessibility to the city with major expressways like TPE, PIE & ECP
Near to upcoming rail network by 2030 (50km cross island line (CRL) that will connect to Changi and pass through
Pasir Ris to Jurong Industrial estate

| | | |
| --- | --- | --- |
| Rulang Primary School | Shuqun Primary School | Jurong Primary School |
| Canadian International School | Jurong Junior College | Yuhua Primary School |
| Lakeside Primary School | River Valley High School | Boon Lay garden Primary School |

 Retail
 Minutes' walk to White Sands Shopping Mall
 Short stroll to Singapore's first air-conditioned wet market by supermarket chain Sheng Siong at Elias 1
 Short drive to Tampines Retail Park (Ikea Tampines, Courts and Giant hypermarket)
 Near Shopping malls such as Tampines Mall, Century Square, Tampines One, Eastpoint Mall and Changi City Point
 Up-coming integrated retail and hotel – Jewel at Changi Airport
 Recreation
 Close to Pasir Ris Park and Downtown East
 Horse Riding at the Gallop Stable
 Walking distance to Pasir Ris sports and recreational centre
 Education
Primary schools within 1 KM
 Elias Park Primary School
 Coral Primary School
Other good schools
 Pasir Ris Primary School
 Hai Sing Catholic School (Secondary School)
 Meridian Junior College
International Schools
 The Japanese School
 One World International School
 United World College of South East Asia (UWCSEA)
 Overseas Family School – upcoming
University
 Singapore University of Technology and Design (SUTD) – upcoming

ENTRANCE COURT
– GUARD HOUSE
– SIDE GATE
– SCULPTURAL POOL
– GRAND ARRIVAL PLAZA

CLUB COCOMO
LEVEL 1
– ARRIVAL LOUNGE
– FUNCTION HALL
– GOURMET HALL
– GLASS LIFT
LEVEL 2
– CLUB VERANDA
– READING ROOM
– GYMNASIUM
– GAMES ROOM
– SCREENING ROOM
LEVEL3
– GARDEN LOUNGE
GRAND LAGOON
– LAGOON POOL
– POOL DECK
– HAMMOCK ISLAND
– COZY COVE
– PALM ISLAND
– LAGOON JETS
– CASCADING WATERLACE
– SUNKEN LOUNGE
– COASTAL COVE
ONSEN GARDEN
– SALT WATER POOL
– STEAM ROOM
– ONSEN
– ONSEN PAVILION
– ZEN GARDEN
– MEDITATION DECK
– TEA PAVILION
– TEPPANYAKI PAVILION WITH HOT PLATE

HYDRO GARDEN
– HYDROTHERAPY POOL
– HYDRO SPA BED
– HYDRO FOOT MASSAGE
– HYDRO NECK MASSAGE
– HYDRO WATER CASCADE
– YOGA DECK
– WELLNESS PAVILION WITH BBQ GRILL
– KIDS' PLAY
FITNESS GARDEN
– 50M LAP POOL
– AQUA GYM
– FITNESS PAVILION WITH BBQ GRILL
– TENNIS COURT
– FITNESS & PLAY STATION
– JOGGING TRACK
SUN PLAY GARDEN
– PLAY POOL
– SOLAR GARDEN
– WIND SCULTURE GARDEN
– PICNIC SUN LAWN
– SUN PLAY PAVILION WITH HOT PLATE
ECO GARDEN
– COMMUNITY GARDEN
– FITNESS STATIONS
– GARDEN PAVILION WITH BBQ PIT
– ECO CUBE FARM
– ECO-POND
SHOPS
– THE CORNER SHOPPES
(6 shop units on level 1)
– SIDE GATE

Rental potential from the 4 international schools
Ready pool of highly-skilled professional tenants from neighboring business parks
 Changi International Airport
 Changi Business Park
 Pasir Ris Wafer Fabrication Park
 Tampines Wafer Fabrication Park
 Advanced Display Park
 Tampines Regional Centre
留下您的联系方式, 我们会尽快与您联系并提供您所需要的信息。也可直接电话或短信息连系楼盘销售人员 刘先生(Harry) ,电话:87771666。  助您找到理想房屋!
Interested in Coco Palms
indicate interest of Coco Palms
微信在线答疑
个人微信号:PropertySG
+65 8777 1666